Kids that are participating in the Science Fair can put their projects on a tri-fold…
Greenfield is a K-8 elementary school in the heart of Center City – Philadelphia. In 2018, it was awarded the National Blue Ribbon from the U.S. Department of Education. 
Our neighborhood public school fosters rigorous academics and mindful students in an engaged, diverse, environmentally-conscious community. With the surrounding city as our extended classroom, teaching and learning at Greenfield takes full advantage of Philadelphia's vibrant culture and rich history.
In the late 1940's and early 1950's, there were very few public schools serving families in Center City. Many children attended private school or were bussed to schools outside of Center City.
In September 1954, parents and the Center City Residents Association (CCRA) pressured the Board of Education to open an elementary school in Center City West. City Center School, which was the original name, resided in the YWCA at 2027 Chestnut Street. According to the CCRA, there were seven teachers and 153 children ages six to twelve when the school opened.
Within six years, there were 250 students and the space at YWCA was becoming less accommodating with the growing population. Again, parents and the community demanded a better facility to support the growing needs of the students/faculty. After a year of community meetings and appearances before the Board of Education, the Board purchased the former Jerrold Electronics Building at 23rd and Chestnut streets in 1960. The idea was to use the building as a temporary school with the intent of building a new school in the near future.
By 1963, parents and the community decided it was time to build a new building so in 1964 the Board of Education bought all the properties on the block that is now Greenfield. At this point the student population had grown to 375.
The process of building the new building began in 1966 and doors opened September 1970, with an enrollment of 780 children.
"The beautiful Albert M. Greenfield School that resulted is a tribute to years of cooperation among CCRA, parents and a host of hard working officers of the City Center Home and School Association. It is also a tribute to the Board of Education, who in their wisdom understood that a qualified public school was crucial to the renaissance taking place in Center City." – CCRA News June 1997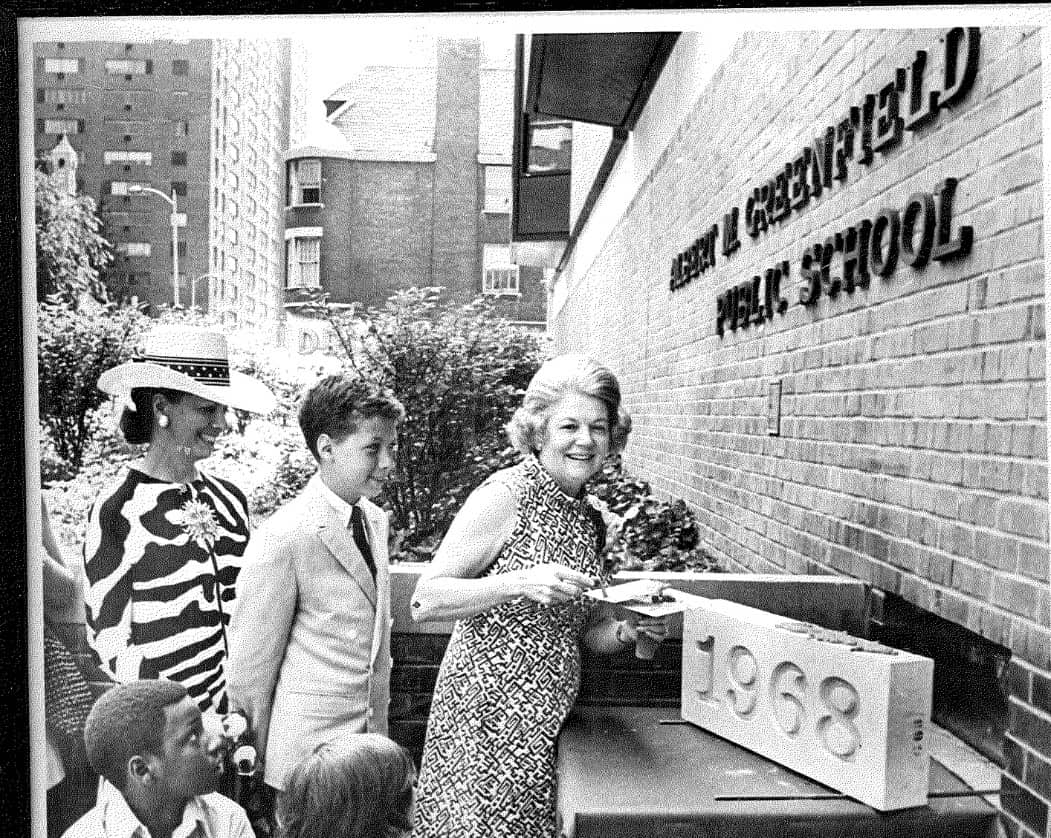 Mrs. Albert M. Greenfield officiated the cornerstone ceremonies for the elementary school named in memory of her late husband.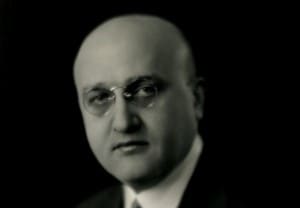 Albert M. Greenfield was a prominent Philadelphia-based businessman, who became influential in politics and philanthropy. His influence earned him the nickname, "Mr. Philadelphia." Mr. Greenfield died in January 1967 and the School District of Philadelphia honored his legacy of public service to Philadelphia by naming our school after him.
The "Greening Greenfield" project was a five-phase initiative that transformed the building and grounds of the school from a mixed-use asphalt play yard to a self-sustaining green space.  
The project was part of the Philadelphia Water Department's efforts to solve the "overflow problem" caused by rain water running along paved city streets creating havoc on the city's underground systems. Completed in 2010, Greening Greenfield helped earn our school national acknowledgment as a "Green Ribbon School" and "Greening Greenfield" remains a core value of the school, its students, and the community.
Read more, and watch the video about how Greenfield is helping to make our city and the environment a better place.
Watch the video on Greening Greenfield:
GREENFIELD SCHOOL CALENDAR
Greenfield's great staff and parent involvement is what makes our school special.  Join us for an event and see!
Filter Events
-
-
-
-
1
2
3
4
5
6
7
8
9
10
11
12
13
14
15
16
17
18
19
20
21
22
23
24
25
26
27
28
Thank you for your interest in Albert M. Greenfield School. We encourage you to take a tour of Greenfield. It's a great way to get a more intimate look at our school.
All tours will begin at 9:00 and end approximately at 10:30 AM. You do not need to register. Please gather in the lobby before 9:00 AM. All students who wish to attend Albert M. Greenfield School must live within the catchment area.
IMPORTANT DATES: January 22, 2019 -First day of kindergarten registration at Greenfield School AND May 23, 2019 – Kindergarten and First Grade Orientation.
Below you will find the dates for Greenfield School Tours.
TOURS (meet at 9:00 a.m. in library)
November 1
December 6
January 10
January 22 -First day of kindergarten registration at Greenfield School.
February 7
March 5
April 2
May 9 – Tour and School District Open House
May 23 @ 8:45-10:30 AM —Kindergarten and First Grade Orientation
IMPORTANT REGISTRATION INFORMATION
** Catchment Zone Requirements **
We will only be registering children living within the Greenfield catchment area. The catchment of Greenfield School is from the south side of the Ben Franklin Parkway to the north side of Bainbridge Street, and from the west side of Broad Street to the Schuylkill River.
When registering, you must bring your child's original birth certificate, his/her vaccination records, your own government-issued photo ID, and your original gas or electric bill from the past month as proof of residence. Please note that water or cell phone bills are not accepted as proof of residence. (For Kindergarten registration documents must show that your child will be 5 years old on or before September 1 the year of enrollment.)